Let's get more eyes on your adoptable pets by setting up your Adopt-a-Pet sync! The article also includes which data points are sent to Adopt-A-Pet.
With this sync, Pawlytics will automatically send your pets listed in Pawlytics to Adopt-a-Pet. This is a great way to save time cross posting your available pets if you already have your Petfinder sync up and running! If you haven't already, you can learn how to set up your Petfidner sync here 😸🐶.
Pets with the status of 'Adoptable' and 'In Foster' (with the correct data fields filled in), will show to the public. As they are marked as 'Adopted' or have another outcome in Pawlytics, they will be automatically removed. The pets in Adopt-a-Pet will be updated every 4 hours.
🚨🚨🚨🚨 !!! BEFORE YOU PROCEED !!! 🚨🚨🚨🚨🚨
If you have already been using Adopt-a-Pet prior to this integration, you will need to download a list of all of your pets before turning on this sync.
PAWLYTICS DATA WILL OVERWRITE YOUR EXISTING ADOPT-A-PET DATA CAUSING ADOPT-A-PET TO DELETE PRIOR HISTORY
You can export your existing list here: AdoptaPet Pet Export
Please note you will need to change the pet filter to display all pets as the default setting only shows pets currently available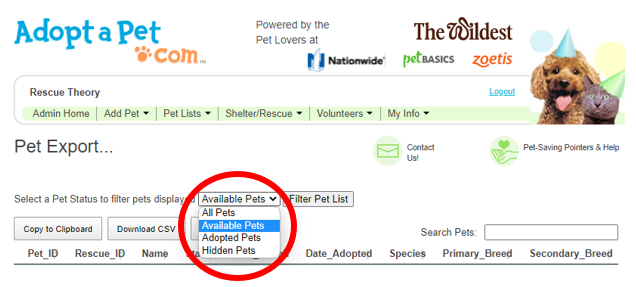 From there you can download your data as either a CSV or Excel file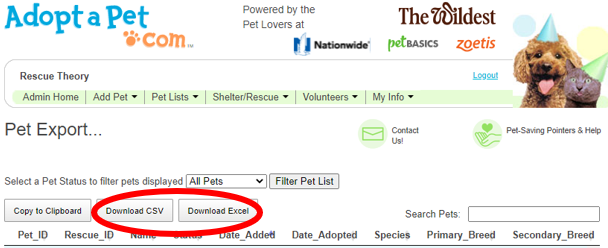 Now that you've exported your pets, you are ready to turn on your Adopt-A-Pet sync in Pawlytics!
Begin by logging into your Pawlytics account and selecting "Organization Settings".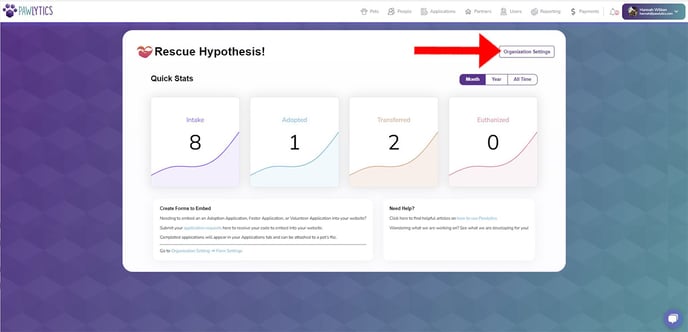 From here you will click on your "Pet Settings". Click the Adopt-A-Pet switch to turn on the sync.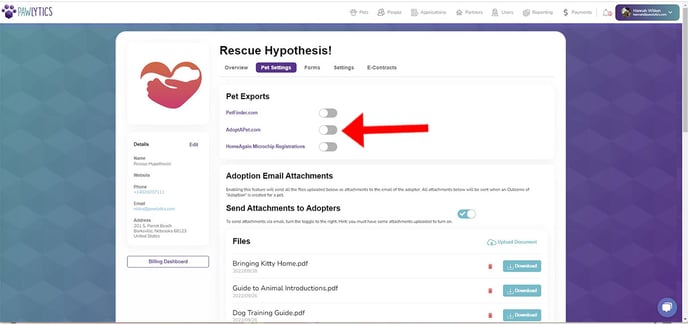 A new module will open asking for your Adopt-A-Pet FTP username and password. Click here to learn how to get this information from Adopt-A-Pet. Once you put your FTP username and password in, click the teal button to start exporting!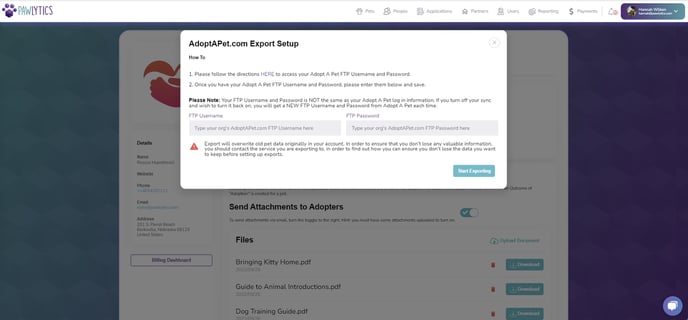 🚨Required Information for Pet to Export to Adopt-a-Pet:
Species
Breed
Image
Pet Status to be "In-Foster" or "Adoptable"


Data Sent to Adopt A Pet by Species:
| | | | | | | |
| --- | --- | --- | --- | --- | --- | --- |
| | All Species | Dog | Cat | Rabbit | Small Animal | Bird |
| Name | ✔️ | ✔️ | ✔️ | ✔️ | ✔️ | ✔️ |
| Images | ✔️ | ✔️ | ✔️ | ✔️ | ✔️ | ✔️ |
| Sex | ✔️ | ✔️ | ✔️ | | | |
| Age | ✔️ | ✔️ | ✔️ | ✔️ | ✔️ | ✔️ |
| Color | | ✔️ | ✔️ | ✔️ | ✔️ | ✔️ |
| Description | ✔️ | ✔️ | ✔️ | ✔️ | ✔️ | ✔️ |
| Size | | ✔️ | | | ✔️ | ✔️ |
| Good with Kids | ✔️ | ✔️ | ✔️ | ✔️ | ✔️ | ✔️ |
| Good with Cats | ✔️ | ✔️ | ✔️ | ✔️ | | |
| Good with Dogs | ✔️ | ✔️ | ✔️ | ✔️ | | |
| Good with Small Animals/Birds | | | | | ✔️ | ✔️ |
| Housetrained | | ✔️ | ✔️ | ✔️ | ✔️ | |
| Declawed | | | ✔️ | ✔️ | | |
| Purebred | | ✔️ | | | | |
| Altered Status | | ✔️ | ✔️ | ✔️ | | |
| Shots Current | | ✔️ | ✔️ | | | |
| Hair Length | | | ✔️ | ✔️ | ✔️ | |
| Special Needs | ✔️ | ✔️ | ✔️ | ✔️ | ✔️ | ✔️ |
| Needs Experienced Adopter | ✔️ | ✔️ | ✔️ | ✔️ | ✔️ | ✔️ |